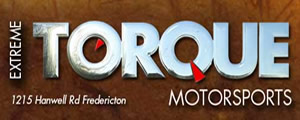 Extreme Torque Motorsports is open and vibrating with excitement! The buzz on the street is wild! Take the ride of your life on a Ski Doo Snowmobile, Sea Doo Watercraft, the Ultimate Unique 3 Wheel Roadster…and our Side by Sides!
If it's service you need visit our Torque Shop, it hosts the mechanics you need to get your engine revving!!

Come visit and get to know our GM Tony McCoy, our sales executive Clinton Edmondson and Donna Lee, who manages our front office.
Torque Motorsports
1215 Hanwell Rd
Fredericton NB
506-452-2777