Everyone knows that Atlantic salmon runs "aren't over until they are over" and some rivers, including the Miramichi, have had significant fall returns in some years.
Nevertheless, the crisp, cooler days of September are both a wonderful time to be on a salmon river, and also a time to begin making comparisons of 2014 to other years.
Four types of reports come to mind when comparing different years.
Anecdotal accounts always are subjective, as any two individuals can have vastly different experiences. Yet in places like Labrador, DFO assessments are entirely inadequate, so one needs to pay attention to those anecdotal reports.
Angling logs can be very useful, and indeed they can be of historical importance as some provide details extending back many decades. Nevertheless there are issues related to the number of anglers, days on the river, impact of the weather, and even the state of the economy.
Counting fence and related data, in theory, provides the best information. But the continued implosion of DFO's budgets and assessment means that fewer counting fences are being operated in 2014. In addition, tropical storm Arthur made its presence felt, destroying one of the most important counting facilities on the Miramichi, the Dungarvon Barrier.
Quebec's reporting system has many things going for it, especially when compared with the ever-reduced efforts DFO can muster.
Here and there through this particular RIVERNOTES there are multi-year histograms and tables, many based on returns to the end of August. There should be concern in 2014 – but in the past some rivers have shown via early winter redd surveys that plenty of eggs have been deposited despite low returns, and the river runs are in good shape going forward. Always realize the numbers we get never tell the whole story.
New Brunswick
Miramichi – Are there signs that fresh Atlantic salmon are coming into the river? Several reports indicate some are. The following is from Brock Curtis who is based in Blackville, written this morning:
Things are much more encouraging this week. We have mainly been seeing local anglers for the last couple of weeks and those who were out there fishing were catching grilse and salmon.

Since this past weekend the number of anglers have increased in the lodges and clubs and this usually will result in more stories of catches along the river. That being said, "most of our customers are catching fish". Lots of stories and pictures. One lady from England caught a beautiful 22 pound salmon and is having a great week here on the Miramichi. With the number of anglers walking through our door being much higher, I expect we will hear of more catches.

Water conditions are good here on the lower stretch. Salmon are still taking on the Bomber, while the Blue Smurf and Same Thing Murray are the most popular flies the last couple of days. Weather is beautiful, with cool evenings, and a slight feel of fall in the air and some early changes starting to show in our fall colours. Full moon is behind us and expect to see more fish coming into the system. These are Atlantic Salmon though and one can never seem to predict what will happen. Lets hope we get some large runs of these precious fish before the end of the angling season. That would make many more happy salmon fisherman.
Overall for the year, to the end of August, the Millerton Trap Net info is interesting: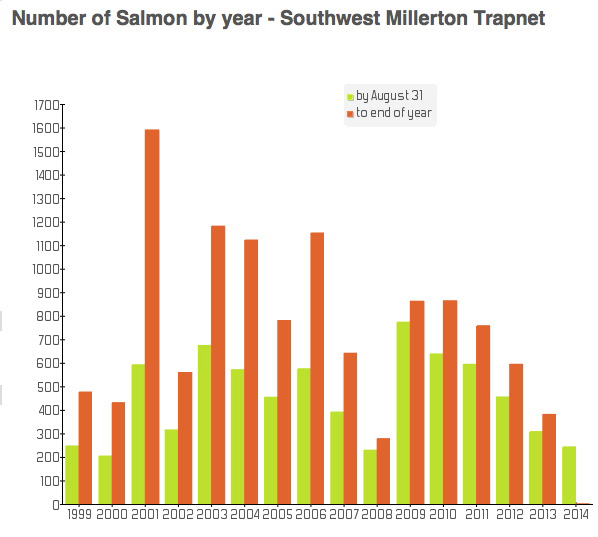 How the season ends up will depend considerably on any fall run this year.
Northwest Miramichi – This barrier was not taken out by Arthur, so the comparisons are valid going back over the past 15 years:
Restigouche River System
Larry's Gulch has closed for the season, and the numbers of Atlantic salmon angled this year was 221. Below are the numbers of large salmon and grilse angled this year, with comparison possible back 43 years.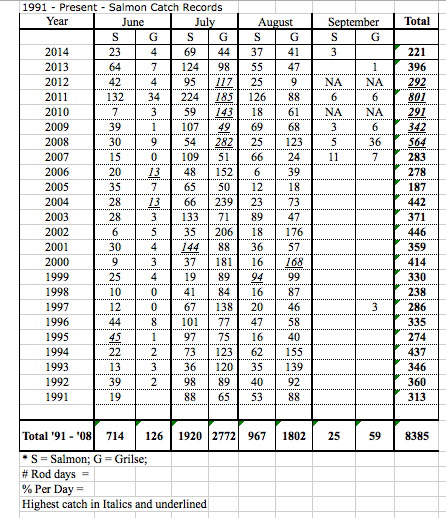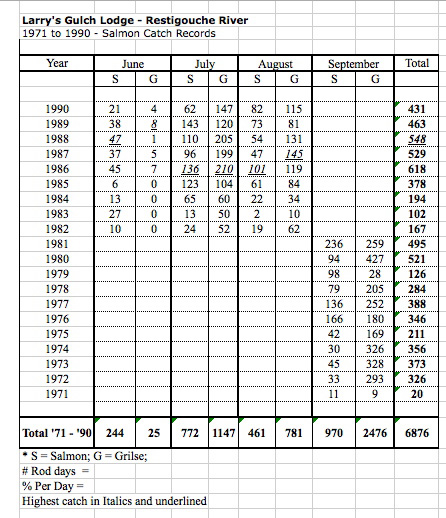 Numbers were down significantly this year – but anglers were finding salmon and grilse. Note that Larry's Gulch practices total Live Release, setting an example of conservation for the future.
Saint John River – Mactaquac – The returns this year continue to show the river has critically low returns. With the combination of problems at sea, plus a mega-dam that alters the flow and water temperature, this run is in very poor condition as of Aug. 31, 2014.
Nova Scotia
Margaree – Last evening John Hart provided an interesting update on the river:
Water is dropping slowly and regularly Salmon are scattered throughout the river, although numbers do not seem to be as plentiful as we would like. Broodstock were collected for the hatchery this week and I have not had report if they captured enough fish or how many pools they had to net.
Undoubtedly there will be good fishing in the next few weeks on the Margaree – a river that also provides the perfect backdrop of hillsides changing colour, and with crisp clear air, perhaps with a hint of river fog first thing in the morning…
Northumberland Strait Rivers – Conditions of low water and warm temperatures remain, and rain is most definitely needed. Few reports of salmon being angled at this point.
LaHave River – After the upswing in returns in 2013, many were hoping the LaHave would have better years. However, the returns to end of August as counted at the Morgan Falls Fishway have been disappointing.
Newfoundland
For most rivers in Newfoundland the angling season ended on Sept. 7. Fall angling is permitted on the Lower Humber, Gander, and Lower Exploits Rivers from September 8, 2014, to October 7, 2014. Retention is only permitted on the Gander River.
Don Ivany of ASF reported from Big Falls on the Humber  connecting with a few grilse at Goosney's Rock. Water levels are good, but temperatures remain warm at 18 C to 20 C.
On the Gander River anglers are finding a few fish, but it appears the fishing success has been better in the past few days on the Exploits River.
"Most fish are moving upstream," says Don Ivany, "and water levels are generally good for them across the province."
The Sept. 7 counts are available, and are posted below. Click to see larger, and backspace to get back to the blog.
The returns in Newfoundland show the good 2014 year experienced on the West Coast of the Island, while Conne River indicates the continued troubles for the rivers of the South Coast.
Labrador
The angling season continues for a few more days, to Sept. 15.
English River – While most salmon rivers in North America have been concerned about grilse numbers this year, the English River has had 830 grilse plus 182 large salmon to Sept. 7, totalling 1,012 fish. By comparison, there were 461 grilse and 154 large salmon in 2013, totalling 615 fish. The AVERAGE for the period 2008 to 2013 is only 365 grilse and 93 large salmon, totalling 458.
Sand Hill River – To Sept. 7 there were 1,813 grilse and 585 large salmon counted, totalling 2,398. In 2013 to the same date there were 1,622 grilse and 1,287 large salmon, totalling 2,889 fish. The average for the period 1998 to 2013 is 3,870 grilse and 684 large salmon, totalling 4,554 fish.
Anecdotally the fishing apparently has been good in the last week or so on the Flowers River, plus on the Hunt River.
Quebec
Recent precipitation in salmon country will maintain the overall good angling conditions in the next several days.  Puzzling drops in abundance compared to last season are prevalent in almost all rivers.  In 2011 we were asking ourselves "where are all those fish coming from?".  In 2014, "where did they go?
Rimouski River
As of September 9, 314 fish had been counted (188 salmon and 126 grilse) compared to 524 (328 salmon and 176 grilse) at the same date in 2013.
Captures to September 9 included 27 released salmon and 23 retained grilse for a total of 50.  At the same date in 2013, for the season, 89 salmon had been released and 50 grilse killed for a total of 139.
Matane River
To September 9, 715 salmon and 665 grilse had been counted totalling 1,380 fish.
To the comparative date in 2013 for the season, 2,183 (1,595 salmon and 588 grilse) had migrated through the counting facility.  To the same date in 2012, 2,131 fish had been counted (1,013 salmon and 1,040 grilse).
Reported captures to September 9, 2014 totalled 347 fish landed. 38 salmon killed, 236 grilse killed, plus 62 salmon released and 11 grilse released.
To the same date in 2013, 680 fish had been landed (422 salmon and 258 grilse).  At the same date in 2012 a total of 809 fish had been reported landed (332 salmon and 477 grilse).
Matapedia River
To September 9, for the 2014 season 900 fish had been reported landed which includes 240 released.  At the comparative date in 2013, 1,286 fish had been reported landed which included 155 releases.
The breakdown of salmon to grilse numbers is not available until the official 2014 report is released in early 2015.
Mitis River
To September 9th, 508 fish (290 salmon and 218 grilse) had been counted.  Comparatively to 2013 at the same date, 1,010 fish (655 salmon and 355 grilse) had migrated through the counting facility.
For the season at September 9 2014, a total of 78 fish (27 salmon released, 4 salmon and 47 grilse reported deceased) had been reported.  The reported captures at the same date last year were reported at 311 (34 salmon released, 144 salmon and 133 grilse deceased).
Bonaventure
This season, to September 9, the crystal blue green waters of the "Bonnie" has produced the following: 977 fish had been landed of which 533 salmon were released and 444 grilse were retained.
To the same date in 2013, 1,170 fish had been landed, 991salmon released and 179 grilse retained. And to the same date in 2012, 1,024 fish had been landed, 736 salmon released and 288 grilse retained.
Madeleine River
To Sept. 9 2014, 570 fish (308 salmon and 262 grilse) had been counted migrating.
The closest comparative date is September 11 2013, for the season 1,280 fish (1,021 salmon and 259 grilse) had been counted.
Final Photo: