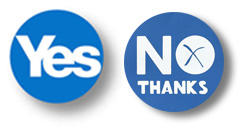 Scotland, one of the great lands of salmon rivers, is holding a referendum on independence today. With a focus on wild salmon, the question naturally arises as to whether a decision of "YES" or of "NO" will impact the future of these fish.
One of our Scottish correspondents, definitely in the "Yes" camp, says this:
Salmon don't feature directly in the debate but Scotland's Green Party is firmly on the Yes side and the Scottish Government review into fisheries management for the future is due to report in October regardless of the referendum outcome. If we do achieve independence I believe that with government much closer and more responsive we have a much better chance of protecting wildlife and the environment and possibly open up more opportunities for people to go fishing.
However, taking an economic perspective, one might be concerned that a "YES" vote will result in the Scottish government becoming ever more focused on raising new revenues, and with salmon farms already a major export, they could be a focus for accelerated development, leaving wild salmon further at risk.
Certainly the major salmon organizations in Scotland, the Salmon and Trout Association and the Atlantic Salmon Trust, have decided to leave the talking to others, and to await the outcome of the referendum.
Whether there is a "Yes" or a "No" victory today, there could yet be impacts unforeseen. Most individuals are coming to realize that holding the vote at all will change the relationship of Scotland with the UK government. Much to mull over and watch as the results come in, and whatever the outcome, hope for the future of salmon runs in rivers from the Ayr to the Dee.
Photo Contest Puts the Salmon First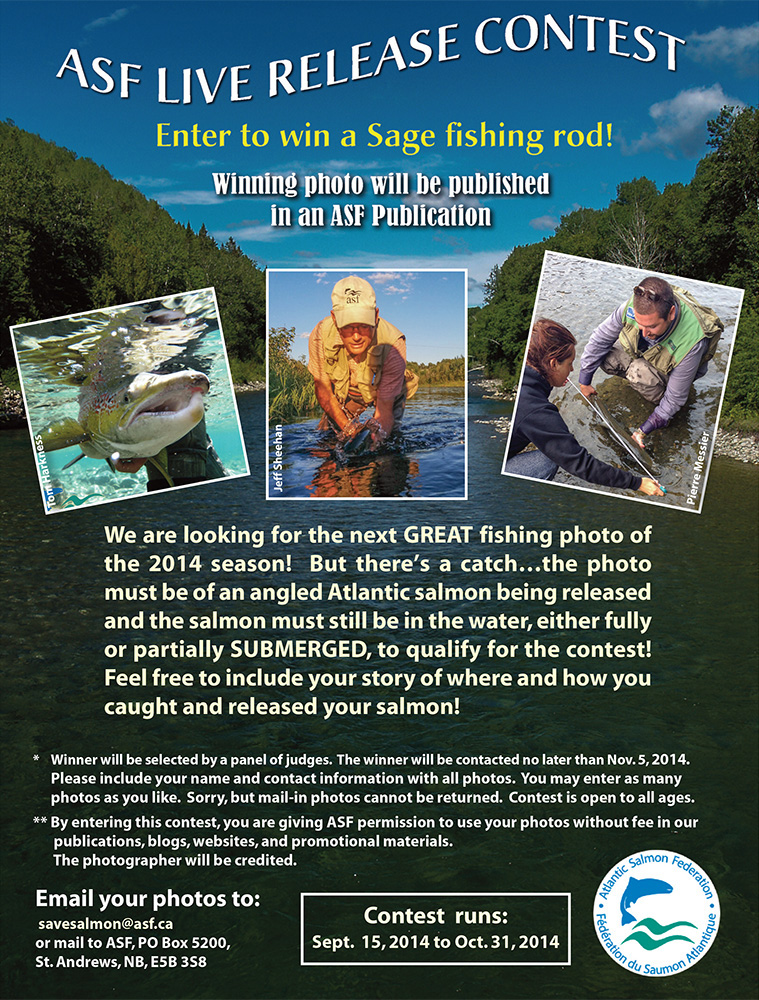 In this year when Atlantic salmon returns are lower than expected, ASF is this week opening a very special photo contest. This is a photo contest that undoubtedly places the welfare of the angled Atlantic salmon above all else. And this is how:
All photos submitted for the contest MUST have the salmon in the water in a way it can breathe naturally, with the water passing the gills. All submissions must be made by Oct. 31.
The three live release photos on the poster give you some ideas on how to make the most of such an image. If you have a small underwater Pentax, GoPro or alternative, consider taking the image below the surface.  Or consider taking it from a low position, just above the water so a person's eyes and other features can show up, while the fish is still in the water. Take advantage of special lighting, such as the golden glow of dawn or dusk, and also consider a photo that shows something happening such as measuring the fish.  The poster shows three excellent examples.
The photos can be from another year or earlier in 2014, but must include an Atlantic salmon being released, and it must be in the water. Dripping salmon above the water are not acceptable for this contest.
Tuck away a few ideas to bring out next time you are on the river, and it certainly looks as if there will be some nice days ahead.
Notes from the Rivers
Nova Scotia
Northumberland Strait Rivers – Gerry Doucet, Director of the Antigonish Rivers Assoc., notes the angling conditions remain poor. He notes:
"The major runs for these rivers arrive in September, October and November with salmon fishing closing on October 31. No appreciable rain has occurred since late August and the fall temperatures have been pleasant. No rain is in the forecast for the next week and temperatures are predicted to reach the mid 20′s this weekend."
A few fish are in the larger rivers Philip, East and West and some have been angled in late August. Most of the fish are still in the tidal waters at the bottom of the river or in the estuaries/ocean yet to come.
Margaree – There are reports of salmon throughout the system, but the major factor at the moment is the very low water, well below the level for decent angling. Hopefully some heavy rains will be coming, but it doesn't look like it will be this week.
LaHave – As of Sept. 15, the Morgan Falls fishway is reporting 21 large salmon and 42 grilse, well below last year's 107 large salmon and 74 grilse to the same date.
Prince Edward Island
PEI's Government has just extended the salmon angling season in certain rivers to Oct. 31. One does not need an extra license, but one MUST get a log book and register before fishing through the extended season. Anglers can register and receive their log books at Access P.E.I. offices, at selected license vendors, and at the Forests, Fish and Wildlife office at 183 Upton Road in Charlottetown. Online registration is also available at www.gov.pe.ca/forestry/summary.
For Atlantic salmon angling on the Morell River, anglers can use flies only, with single barbless hooks. Detailed maps of the rivers with an extended angling season can be found online at www.gov.pe.ca/forestry/summary.
New Brunswick
Miramichi – There is much talk about seeing large salmon in some numbers in pools along the Miramichi, and it remains a tantalizing possibility there will be a significant fall run. Nevertheless, numbers this year are down.
Northwest Miramichi – Reports continue of very low numbers of grilse, although large salmon are coming in. The Sept. 15 Northwest Cassilis Trapnet data is in, with 71 grilse and 58 large salmon, much lower than last year's 376 grilse and 175 large salmon. Definitely cause for concern.
Southwest Miramichi – While the reports this week are positive as to large salmon being around, the trapnet data shows runs remain below last year. To Sept. 15 there have been at the Millerton Trapnet 379 grilse and 289 large salmon, below last year's 427 grilse and 325 large salmon. Everyone continues to hope for a significant fall run this year.
Magagudavic River – This river in southwest New Brunswick has had eight grilse and two large salmon return by Sept. 15, compared with just 3 grilse and 3 large salmon in 2013.  One needs to remember that a normal run on this river back around 1990 was 800 fish.
Saint John River – At the Mactaquac Dam they have counted 126 grilse and 67 large salmon to Sept. 15, compared with 278 grilse and 120 large salmon last year to the same date. By comparison the 1996 to 2000 average was 3,564 grilse and 1,416 large salmon.
Note that the period of public comment for consideration of the Outer Bay of Fundy rivers for endangered status under the Species at Risk Act is ongoing now, and continues to Oct. 31. This set of salmon runs includes all rivers from the Saint John and Nashwaak west to the US border and the St. Croix. If you have views about the listing, you can submit them. Click here for more information.
Nashwaak – To Sept. 15 there were 46 grilse and 15 large salmon, vs. 54 grilse and 34 large salmon in 2013. There have been various comment this year, as in most years, wondering whether most of the fish are being counted – or whether some are travelling upstream before the fence is in operation, etc.
Newfoundland
Salmon Angling is definitely winding down, with the season in Labrador now closed.
Don Ivany, ASF's Regional Director for Newfoundland and Labrador Programs dropped a note regarding the Humber a couple of days ago:
"Just a quick update on the Lower Humber.  Water levels are ideal for fishing right now.  The water  temperature has finally dropped and is now at 13 degrees Celsius which is ideal.   A friend of mine, Dean Pelly,  reported hooking three large fish at Leddingham Shoals this past week during three days of fishing (Sept 9-11).   So there are still a few large fish around and one can enjoy some success if you put the time in."
The last NL counting fence report for the year was on Sept. 7, and was discussed in last week's ASF RIVERNOTES.
Overall, the numbers returning to Newfoundland were certainly an improvement on the Island's West Coast, if not elsewhere. But there is concern that the very high freshwater temperatures this summer may have taken a toll on juvenile numbers. Perhaps some electrofishing data will tell us more by next spring.
Quebec
Rimouski River
To September 15 2014, total run is 352 fish (205 salmon and 147 grilse).
To September 15 2013, 565 fish had been counted (340 salmon and 225 grilse)
Returns are down 37 % compared to last year.
Matane River
To September 15 2014, the total run of fish counted is 1,404 (721 salmon and 683 grilse).
To September 15 2013, the total run was 2,208 (1,613 salmon and 595 grilse).
Overall run down 36.5%.    The number of salmon is down 55 %
Matapedia River
To September 15 2014, the total reported catches is 938 including 268 releases.  Live release was imposed on August 1.
To September 15 2013, the total reported catches was 1,308 including 158 releases.
Overall run down 29% compared to last year.
The breakdown of salmon-grilse numbers is not available until the official 2014 report is released in early 2015.
Mitis River
To September 15 2014, with a total run of 508 fish , the total number of reported catches is 55 including 32 releases.
To September 30 213, with a total run of 1,017 fish, the total number of reported catches was 281 including 39 releases.
Overall run is down 50% compared with last year.
Bonaventure
To September 15 2014, anglers have landed 1,027 fish including 578 releases. (449 grilse killed)
To September 15 2013, anglers had landed 1,214 fish including 1,021 releases.  (183 grilse killed).