ASF had 90 entries for the Live Release "In the Water" Photo Contest.
After deliberations the WINNER of the 2014 ASF Live Release Photo Contest has been chosen and this was a VERY difficult decision
Congratulations to Leon Garneau Jackson for submitting his first-prize winning photo taken by Christian Kirouac on the Petite Cascapedia. He was the winner of a new Sage rod!! The 1st Runner Up is Quentin Condo with his incredible photo of his two sons, Aidan, 13, and Liam, 9, releasing a beautiful salmon at Alder Island Pool on the Cascapedia River…look at those smiles! Honourable Mention goes to Christopher Minkoff for his GORGEOUS underwater shot! Thank you so very much to all who entered!
We are already making plans for our 2015 Live Release Photo Contest so please stay tuned for further details in the New Year!
First Prize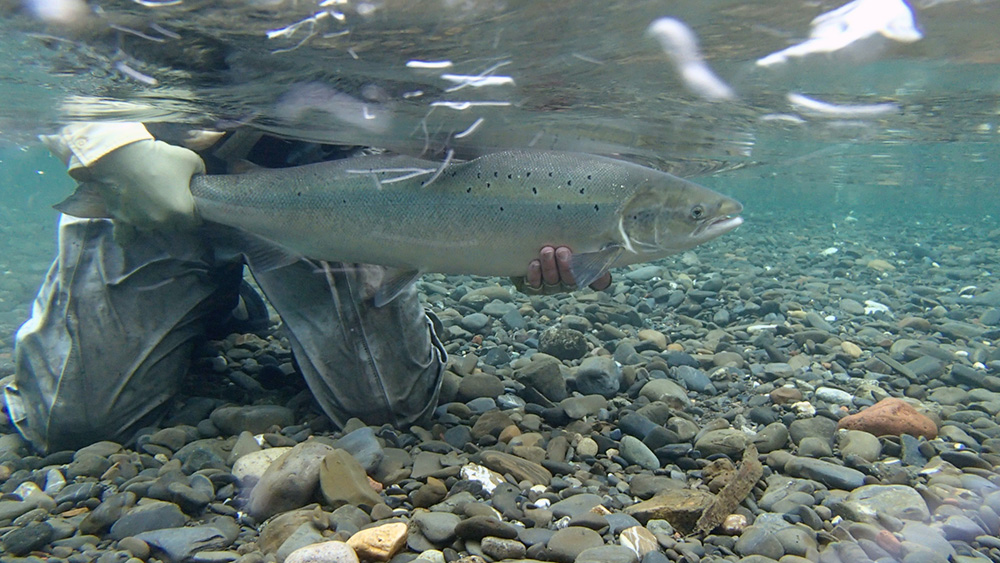 Leon G. Jackson releases a salmon on the Petite Cascapedia on 22 July. Photo Christian Kirouac.
The winning photo had fascinating tones, and unusual visual lines that all drew attention to the Atlantic salmon. In addition the reflections on the water's surace added yet another dimension to the image.
First Runner Up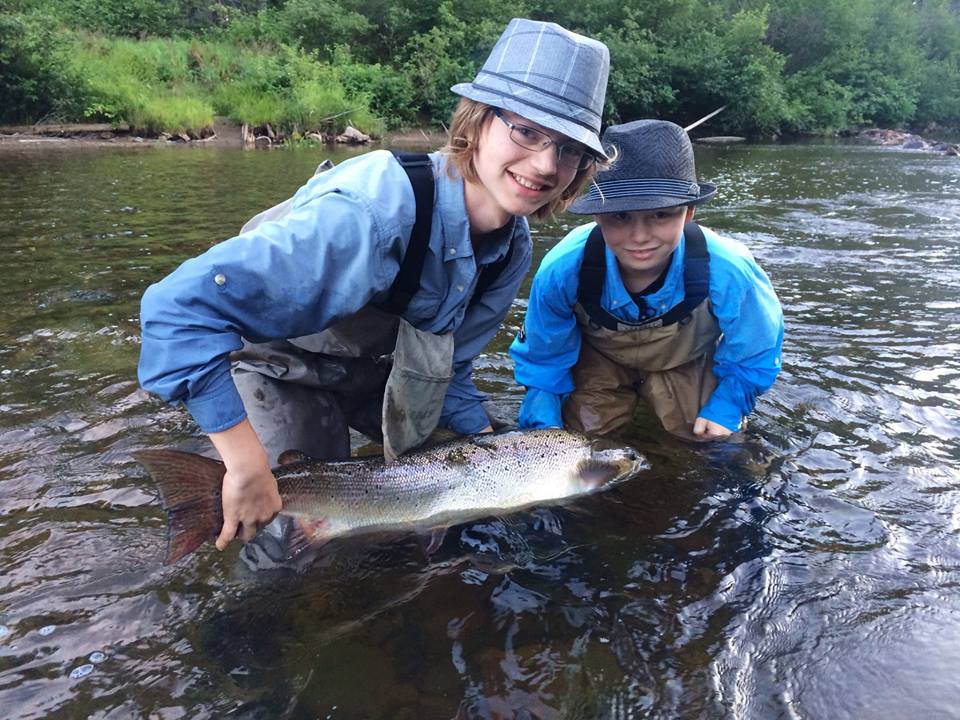 Photo taken by Quentin Condo of his sons Aidan 13 and Liam 9
The quiet sense of pride and excitement is palpable in the smiling faces as the boys prepare to release their salmon. The eyes of the closest boy being sharp, and making contact with the viewer is an important element of the image. For the eye, the triangular movement from the tail of the salmon to the heads of the boys, down to the head of the salmon and along the salmon is part of the appeal of it. The image is quite large, which helps the sense of detail. Note that the perspective is from somewhat closer to the water surface than that of a standing individual, which helps give a sense of immediacy as well as providing better perspective on the faces.
Honourable Mention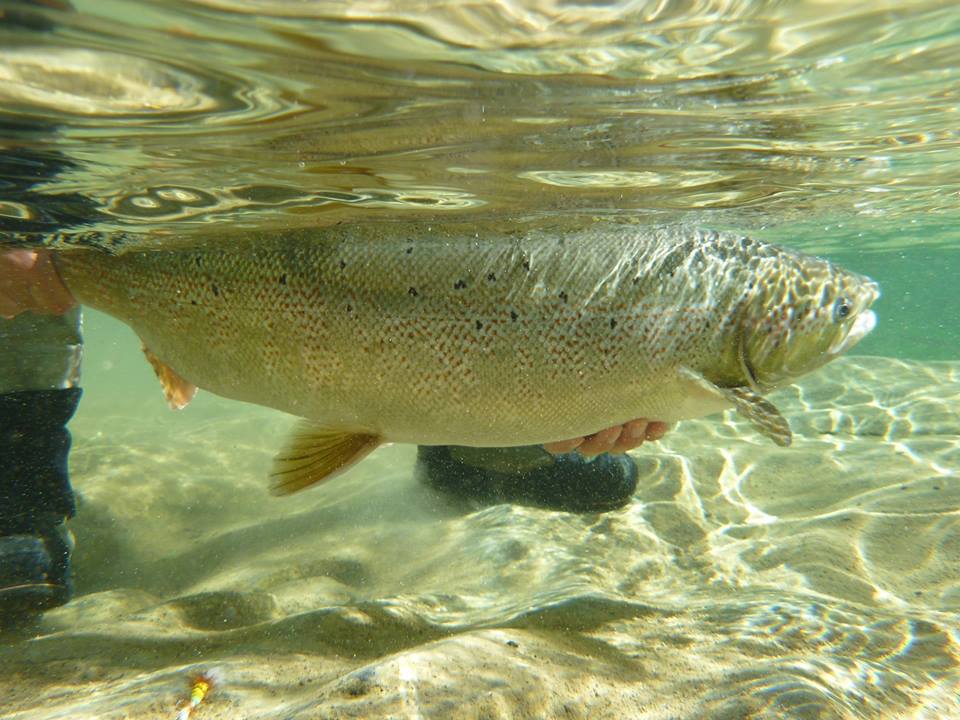 Photo by Christopher Minkoff of female Atlantic salmon
There is very much a sense of both a very healthy salmon and gorgeous colour on its flank, as it is gently held as it recovers from the angling battle. This female is most certainly full of eggs, and one can easily sense it will go on upstream to spawn successfully. Patterns of light on the surface and the bottom frame the salmon, with bright lines of light just behind its head the initial focus for the eyes.
River Notes
New Brunswick
Saint John River – DFO has been busy with other things, so there was some delay in posting numbers from some of the counting facilities, but the Oct. 31 reports are now available. But they don't make happy reading.
To Oct. 31, the Mactaquac Dam had only 134 grilse and 77 large salmon, vs. 291 grilse and 134 large salmon in 2013 – and we thought 2013 was a poor year. As comparison, for grilse, the 1996 – 2000 average was 4,062 and large salmon 1,656. This is most definitely a river with major problems, and certainly dams are part of it.
Nashwaak – To Oct. 31 there were 48 grilse and 15 large salmon this year, vs. 55 grilse and 39 large salmon in 2013. The 1996 to 2000 averages were 497 grilse and 243 salmon, incidentally.
Magagudavic – ASF continues to monitor this river in southwest New Brunswick and to Oct. 31 there were 7 grilse and 3 large salmon, something of an improvement over 2013's 3 grilse and 3 large salmon.
Northwest Miramichi – The Northwest Protection Barrier had 202 grilse and 66 large salmon to Oct. 31, vs the 2013 240 grilse and 252 large salmon. The 1996 – 2000 averages were 661 grilse and 253 large salmon.
The Northwest Cassilis Trapnet to Oct. 31 had 117 grilse and 94 large salmon, vs 401 grilse and 203 large salmon in 2013. No numbers are available for the 1996 – 2000 average.
Southwest Miramichi – The Millerton Trapnet has been intriguing this year, with those 746 grilse and 592 large salmon to Oct. 31, vs 468 grilse and 383 large salmon. Did many of these salmon move up into the Cains this year? Anecdotal information says they did, but we need to wait for the scientific assessments.
As a matter of interest, the 1996 to 2000 averages for the Millerton Trapnet were 1,420 grilse and 585 large salmon.
For the Dungarvon Barrier, with its issues of failure during the Tropical Storm, there were 114 grilse and 83 large salmon counted, vs. 244 grilse and 292 large salmon in 2013.
Nova Scotia
Sackville River – To Oct. 31 there were 7 grilse and 3 large salmon, vs. 5 grilse and 3 large salmon in 2013. By comparison, the 1996 to 2000 averages were 157 grilse and 20 large salmon.
LaHave – The Morgan Falls Fishway reported 43 grilse and 21 large salmon to Oct. 31, against 75 grilse and 111 large salmon in 2013. By comparison the 1996 to 2000 averages were 750 grilse and 143 large salmon.