The province of New Brunswick has three wild Sea-Run Trout river stocks and the Cains River is by far the largest and one of the healthiest. The Cains has been under very strict conservation laws and practices for 14 years and our efforts are paying dividends today. Camps records and personal records are being set almost every season now. It is not uncommon to take fish in the 4-5 pound range on a good night, but, these are truly wild fish and are not easily fooled. Dry Fly Fishing is our specialty on the Cains River.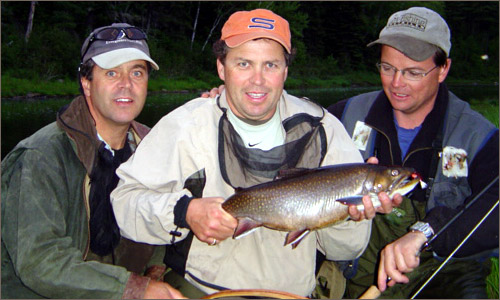 The Cains River is a small tributary of the Miramichi River. The average width is app. 10 meters wide and most pools fish just one or two rods at a time. The river source is made up of large cedar swamps which keeps the water very cold thus ideal habitat for these large trout. The water is very dark in color so you do not see the trout until feeding time. The best pools are only a short drive from the main camp and can also be reached by canoe during the higher water periods A float trip on the Cains for these huge Sea-run trout is always a big hit. We fish a ten mile stretch of the river, which we have learned from many years of experience to be the most productive.
Season
Late May through July.
What To Bring?
Rods: We suggest having two or more rods in the 4-7 weight range. Some pools require a little longer cast especially if the fish are more nervous than usual.
Reels: You should bring spare spools with slow sink and sink tip lines. A wt. forward floating is the line most used.
Waders: Light weight Gore-Tex waders with felt soles boots are preferred. You should always use a wading belt and carry a wading staff. Though the water is shallow it is very dark and difficult to see bottom.
Clothing: Light weight water proof jacket with fleece under. The weather is generally warmer in June (50-80F) so summer gear is appropriate. A cap with a long peak for sum protection and an optional jacket with a hood.
Accessories: Bug repellent, lip balm, vest, leader material, clippers, dry floatant, sun glasses, pocket knife, flashlight, sunscreen, camera and carry bag.
Our Rates
Are in Canadian Dollars, taxes not included. Rates do not include license or gratuities. US & CDN customers pay 13% HST per person – per day.
Cains River Sea Run Brook Trout Rates 2018

(1) One angler

(1) One Guide

$590 CDN/per person

(2) Two anglers

(1) One Guide

$550 CDN/per person

Non-fishing guest

$190 CDN/per night

Equipment rental

$40 per day
Terms And Conditions
Require a 50% deposit per person. Non-refundable. The balance due on the # of days booked, must be paid in full upon arrival. Cancellation policy, if you do not find a replacement for the time booked then you will be charged 1/2 of the total amount due.