Fall Brook Falls
The highest waterfall in New Brunswick! Come and enjoy this magnificent untouched wonder of glittering sun touched rainbows, and a thick flora of colorful plants and flowers.
A guide will transport you to the beginning of the trail, take you along the wonderful trail to the waterfall, and set up and enjoy a homemade picnic for two or more. While experiencing this amazing opportunity there will be a excess of birds and wildlife.
Also the trip includes a walk over New Brunswick's longest suspension bridge in McNamee and a trip to see an old covered bridge.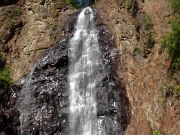 Fall Brook Falls – $45.00 per person.
Mountain Biking & Hiking
One of New Brunswick's finest hiking and biking trails (Sentier Trail) is located just along side of Wilson's. Enjoy a leisurely guided hike or a guided biking tour. All tours are provided with interpretation of the history of the Miramichi, fauna and natural wildlife that inhabits the area.
Don't forget your packed home-cooked picnic that you can have along the shore banks or in a field of flowers.
Bike rentals – $10.00 per day, Guided Hike – $40.00 per day
Golfing
Old Mill Pond Golf and Country Club is located in the heart of Doaktown, New Brunswick. A family owned and operated business that offers a nine hole course which will test your abilities as a golfer. Well maintained and groomed the club offers amenities such as full service club, pro shop, cart rentals, and driving range.
Packages for this opportunity includes accommodations and pass to the golf course. Just contact us and we will set up the tee times for you and offer transportation to and from the golf course.
New Brunswick Golf Links
Mactaquac Golf Course – Mactaquac N.B.
Kingswood – Fredericton N.B.
Riverbend Golf Club – Durham Bridge N.B.
Old Mill Pond – Doaktown N.B.
Golf New Brunswick
Canoe Trips
You don't have to just use a canoe for fishing, one of the favourite pastimes here at Wilson's is a lazy summer day paddling along the river watching the wildlife on the shores of the Miramichi River. Now that's living the life.
Life on the river epitomizes how we share out history and culture in this unique region. Not only are there colorful stories to tell while paddling, but some of the most awe inspiring scenery around. Can't you picture seeing the lush foliage of trees during a late September paddle, and wonder how someone could make something so beautiful.
Experienced, expert guides are available and will provide you with some great techniques to paddling a boat, safety instruction and the experience of a lifetime. Guide service available.
Local Museums
Atlantic Salmon Museum – The AtlanticSalmon Museum (Miramichi Salmon Museum) is located on the banks of the Main South West Miramichi River in the Village of Doaktown. The site tells the story of the Atlantic salmon and the people that know this king of sport fish. The Museum, through its many interpretive displays, shows the life and history of the Atlantic Salmon.

Central New Brunswick Woodsmans Museum – We invite you to journey back to earlier times when this area witnessed the struggles of those hardy pioneers who carved a living from the forest and raised their families here on the Upper Miramichi. Many workers also came from the Acadian areas, Quebec, Prince Edward Island and Nova Scotia. Some of those settled here.
The 15 acres which comprise this complex contains examples of tools and models of building that will help you envisage their workaday lives and appreciate the strength, intelligence and humor that built or community. We hope that you enjoy your visit.
Come and visit the geographical center of New Brunswick. The Central New Brunswick Woodmen's Museum is located in Boiestown. Situated in the heartland of the lumbering industry, the 15 acres of exhibition provides an insight into the struggles and triumphs of the woodsmen and their families.