New Brunswick has the largest concentrations of Woodcock on the continent and Wilson's is located on the Miramichi Valley flyway for these birds. Many of the well-traveled gunners who visit us literally can't believe the quality of woodcock and grouse hunting we offer – in countless classic, New England style coverts, with experienced guides and well-trained dogs. We can also arrange for released pheasant shooting on a nearby, well-managed preserve.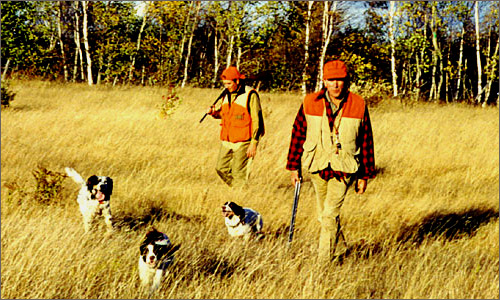 Hunting season for woodcock opens on September 15th and grouse opens October 1st. The limit on grouse is 6 per day per gun, and eight per day per gun on woodcock. At Wilson's we feel the woodcock limit is too liberal and we encourage our outdoorsman to shoot no more than 4 or 5 per day. We have good kennel facilities if you would like to bring your own dog with you.
What To Bring
Your own gun, the gun of choice is 20 or 28 gauge in fairly open chokes. The shot size mostly used is 7 1/2 – 8. Hunter orange is a requirement (please check with customs on the fee to bring your gun into Canada).
You should have long underwear and heavy clothing for hunting with warm socks, warm footwear, good rain gear also for fall you should have sweatshirt, with jacket and hat with visor.
Our Rates
Are in Canadian Dollars, taxes not included. Rates do not include license or gratuities.
Package Includes: meals, lodging, guides, and transportation. If you would like to customize this trip please do no hesitate to contact us for further information.
$825.00 CDN/per person per Day/Night
Terms And Conditions
Require a 50% deposit per person. Non-refundable. The balance due on the # of days booked, must be paid in full upon arrival. Cancellation policy, if you do not find a replacement for the time booked then you will be charged 1/2 of the total amount due.