"During the early years fly fishing success was measured in numbers, not any more, Wilson's is proud to say we promote "Live Release", we are doing our part to help build a brighter future for the Atlantic Salmon and our beloved Miramichi River" – Keith Wilson , fourth generation.
Robert Barnwell Roosevelt, the uncle of U.S. President Theodore Roosevelt wrote of his fishing expedition to Wilson's on the Miramichi River in 1862. The Wilson Camp at that time was located at Bloomfield Ridge, 18 miles upstream from McNamee. Grace Wilson, daughter of William Wilson, managed the camp; from about 1855 until her death in the early 1920's , it was at this time that Willard Weston Wilson took up the trade catering to Fly fishermen at the Wilson Family Homestead in McNamee .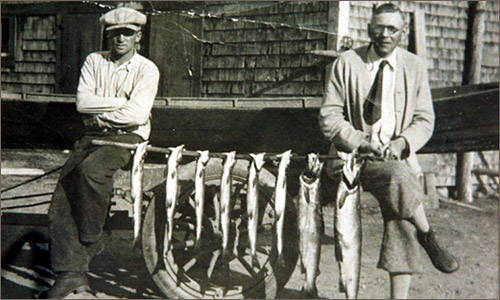 These photos depict the operation at McNamee during the earlier years. Roosevelt's trip started in New York by ship to Saint John N.B., then on to Bloomfield by stagecoach. The tally of $306.69 for two men included meals, lodging, guide service and transportation. He included a cost of $10.00 for "delicacies". An "historical perspective" of Wilson's Sporting Camps Ltd. can be seen in our dining room in McNamee. The book includes many interesting stories, quotes and photos from both past and present clients and employees.
For nearly 150 years, the Wilson family has been in the business of creating great angling memories for our clients on the Miramichi River. Come join us this season and start your our memory bank!
Click on a thumbnail below to view a larger image.