For almost a century and a half the Wilson family has been in the business of providing great Atlantic Salmon fly fishing, hunting and outdoors adventure to discriminating clients from around the world. We are located in the Miramichi River valley of New Brunswick, one of the most scenically beautiful places in Canada. A pristine, "just as God made it" place that offers some of the finest Atlantic Salmon fly fishing and wing shooting on the North American continent.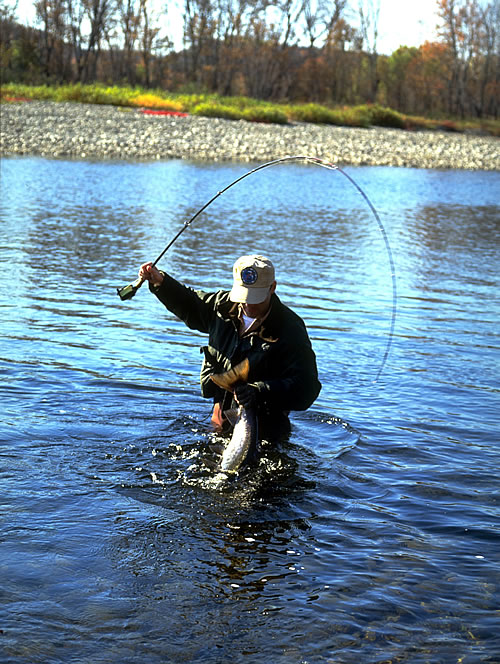 The Miramichi is known as "the mother of all salmon rivers" for hosting the largest runs in the world of Atlantic salmon, "the king of game fish". Wilson's owns and leases more private water on the Miramichi than any other Atlantic Salmon fishing outfitter or individual – a total of 16 pools, many of then among the rivers finest, which means that we can provide our clients with Atlantic Salmon fishing virtually unmatched for variety and quality in all of Atlantic Canada.
We control the most and many of the best, private pools on "the mother of all salmon rivers" and thus afford our clients unmatched opportunity for tangling with the toughest and noblest game fish of them all. Whether its bouncing a dry fly down a ripple or swinging a wet fly over a deep, "sure-thing" lie, our expert guides will have you "reading the river" and fishing like a pro. There is nothing worse than being stuck in a salmon camp with 8 or 10 anglers and only one or two reliable pools. At Wilson's we fish just 10 rods a day and rotate them over 16 pools!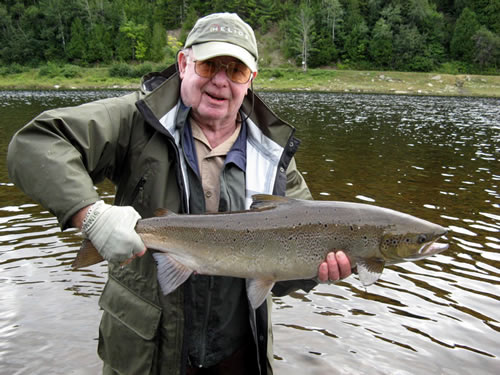 Many experienced anglers believe that nothing in game fishing compares to the reel-sizzling runs and acrobatic leaps of the Atlantic Salmon. Come to Wilson's and let us hook you up this season! Our spring season starts April 15th.
At this time we fish for salmon that have been in the river during the winter from the fall spawn. We start fishing just when the ice is leaving the river. The water is quite high then so we use small motor boats to fish from. The weather is colder then so warm clothing is a must. As mentioned, all fishing is done from a boat, by either letting out a troll or on a short cast next to shore.
The spring season is barely over and we are into the "sea- run" brook trout, (1-6 lbs) and the early rocky brook run, Atlantic's best fishing for this run is between May 20th and June 10th. There is also an opportunity during the month of June for our fantastic shad run. The summer season begins mid June when the first new run of salmon are on their way into the river. The first new run of salmon start about mid June and last until mid August. The water is now down so we can wade the pools and use canoes to go from pool to pool. The weather is of course much warmer (50-85 F) so light weight summer gear is appropriate.
Due to the warm afternoons, we fish the mornings, (8-12 noon), come in for dinner, rest a few hours and then head our about 4 o'clock again. The evening shore lunch is always very enjoyable and sometimes the guide will even grill a fresh salmon over open fire.
The late season or second run of the year starts mid August and is on until mid October. This fall run offers some of the best salmon fishing of the year and in October can be mixed with woodcock and grouse gunning for a "Cast & Blast" . During the fall season we fish from breakfast until the evening dinner having a shore lunch on the river also. The salmon are sometimes a little bigger than the July run because the fish are getting ready to spawn at this time. We also arrange day trips to the Cains River in October.
What To Bring?
Rods: You should have at least on rod in the following approximate lengths and weights. 8-9 1/2 foot rated for 7-10 weight line. Longer facilitates line control and heavier weights help more in windy conditions.
Lines: Two floating lines being weight forward or double taper. Your line should match the weight of your fishing rod. For spring fishing you need a slow sink or floating with a sinking tip.
Reels: Two reels or one with an extra spool with a different line. Recommended are reels with smooth, strong drag systems, and capacity for 150-200 yards or 20 lb. Test backing.
Waders: We recommend light weight or neoprene stocking foot waders with removable wading shoes for comfort and mobility. Wading shoes have felt soles. Also gravel guards and wader belt. Wading staff is optional.
Clothing: You should have long underwear and heavy clothing for spring fishing. With warm socks, warm footwear, good rain gear also for summer and fall you should have sweatshirt, with jacket and hat with visor.
Leader: 9-12 foot tapered to 4-8 pound test tippet
Accessories: Bug repellent, lip balm, vest, leader material, clippers, dry floatant, sun glasses, pocket knife, flashlight, sunscreen, camera and carry bag.
Our Rates
Are in Canadian Dollars, taxes not included. Rates do not include license or gratuities. US & CDN customers pay 15% HST per person – per day.
Miramichi River Atlantic Salmon Fishing Rates 2018

Housekeeping Plan – Private fishing pools with guide & lodging.

$475.00 per person per day.

Guide Service Only – Wilson's 16 private pools.

$300.00 per person per day.

Daily Pool Rentals – Wilson's 16 private pools, no guide.

$100.00 per person per day.

Add full meal plan and daily maid service

$225.00 per day.

* Certain conditions apply –

Contact

Keith or Karl for details.
Terms And Conditions
Require a 50% deposit per person. Non-refundable. The balance due on the # of days booked, must be paid in full upon arrival. Cancellation policy, if you do not find a replacement for the time booked then you will be charged 1/2 of the total amount due.