---
When you think Atlantic salmon fly-fishing, the first place to come to mind is the Miramichi River, and when you think top quality private fishing pools and the best possible guide service you should automaticaly think Wilson's Sporting Camps. The same goes for our World Class Upland Bird hunting. You will not find better service, better dogs or better covers than right here at Wilson's.
For almost a century and a half the Wilson family has been in the business of providing great Atlantic Salmon fly fishing, hunting and outdoors adventure to discriminating clients from around the world. We are located in the Miramichi River valley of New Brunswick, one of the most scenically beautiful places in Canada. A pristine, "just as God made it" place that offers some of the finest Atlantic Salmon fly-fishing and wing shooting on the North American continent.
The Miramichi is known as "the mother of all salmon rivers" for hosting the largest runs in the world of Atlantic salmon, "the king of game fish". Wilson's owns and leases more private water on the Miramichi than any other outfitter or individual – a total of 16 pools, many of then among the rivers finest, which means that we can provide our clients with Atlantic Salmon fishing virtually unmatched for variety and quality in all of Atlantic Canada.
We are offering groups exclusive access to the entire operation in order to maximize privacy, service and comfort. The king of game fish, The Atlantic Salmon and other local attractions such as the Old Mill Pond Golf course, walking trails, museums and miles of open wilderness helps make Wilson's a favorite destination among world travelers.
---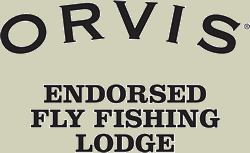 Dear anglers and friends ,
The Wilson family is pleased to announce our new affiliation with the Orvis Company . We are proud to say that we are now an Orvis Endorsed Fly Fishing Lodge , which will mean new services and a guarenteed higher standard to our operation and products being offered to guests . Beginning in 2008 visitors to Wilson's will see a complete line of Orvis equipment on site for their testing and use while in camp . We will also stock a limited supply of equipment in our small shop for sale and will be happy to arrange quick delivery right to your door of all other items that Orvis sells . Orvis catalogues and computer access to their web site will be made available for your shopping convenience. In addition you will be able to take advantage of Orvis's travel department and huge network of other high quality fishing lodges and upland hunting lodges worldwide.
Our guides will be well versed on Orvis equipment and will also apply their years of talent and expertise on our water to help make your fishing more enjoyable , but most of all more productful . Our goal is to help you catch more Atlantic Salmon and good quality equipment is the first step.
Orivs has a reputation of making some of the finest Fly-Fishing and Upland Hunting gear available on the market today , and Wilson's has a reputation for having some of the best service and some of the finest Atlantic salmon water on this river . We view our new formed partnership with Orvis as a positive step forward , we hope you do too.
Sincerely yours,
Keith Wilson
---