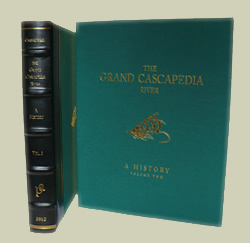 The Grand Cascapedia River
A History: Volume II
By: Hoagy Carmichael
Available June 1st, 2012
Reserve your copy now.
The second and final volume of the award-winning history of The Grand Cascapedia River. In its eleven chapters, Volume II covers the history of the river's eight camps, and the sports who fished out of them, from the mid-1930's through to the present day.Topics covered include the creation of the Cascapedia Society, salmon netting, both Native and commercial, the nagging difficulties of the logging industry and the Riparian Association. It also details the interesting story of how the Cascapedia Club (New Club) almost lost, but retained the river lease, and lastly an Appendix with several astonishing stories. A gallery of photographs at the end of each chapter further bring to life the relevant people, places and events. This volume is more than an account of the bellwether Grand Cascapedia River – it is a book for those interested in the history of Atlantic salmon fishing in Canada. Stories of big fish, big and little people, and the will it took by many to slowly return the river to its historic greatness.
Each copy of Volume II will be signed by the author and will include a full color map of the river, including all the pools and camps, by Bob Seaman. Over 800 photographs. 480 pages. Limited printing of 2200 copies. Marbled end papers. Sewn-in ribbon market. Cloth slipcase. 3/4 black leather raised hub spine.
Price for Volume II: $175
---
Limited Offer: Combined Volume I & II
For those who would like to purchase both Vol. I and Vol. II they are now available in a double-slipcase. The same two first edition books, both signed by the author, in one handsome cloth covered slipcase.
Price for Volume I & II: $ 265
---
To order, visit:
www.booksbycarmichael.com
Anesha Publishing, LLC., 44 Crosby Road, North Salem, NY 10560 • hoagy@hoagy.com