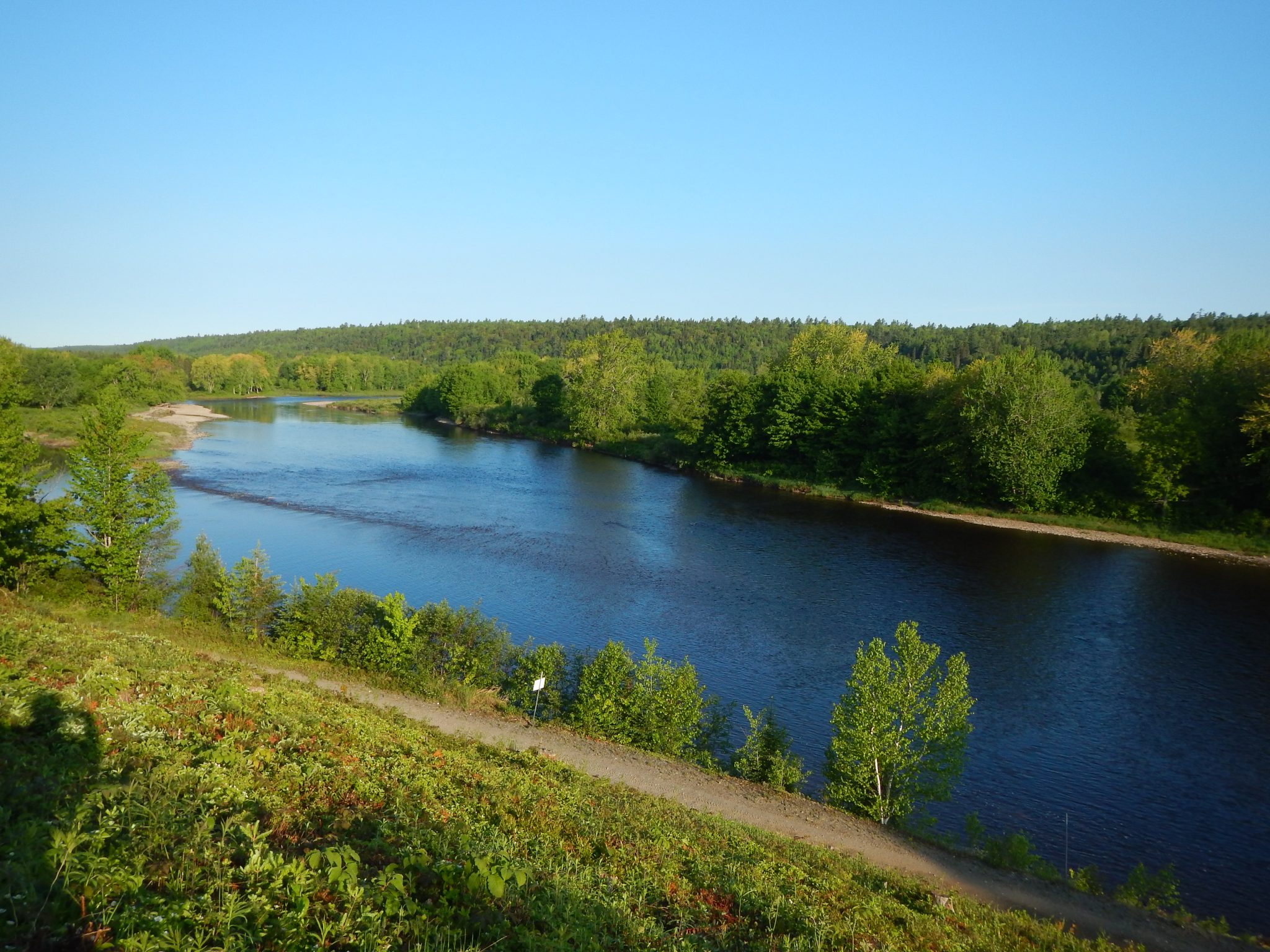 Hi All
I hear there are salmon being put through both the Millerton and Cassilis trap nets – one or so a day at each location. There were 4 salmon and 1 grilse that went through Millerton today though so maybe numbers will continue to pick up. I believe this is the first grilse they have seen.
Two gill nets have been put in near Eel Ground but are not for catching salmon. NBDMC AAROM began a study of Atlantic sturgeon in 2013 and these nets, with 12 – 14 inch mesh, are being used in this study. Atlantic sturgeon was a primary food stock for the communities of Metepenagiag and Eel Ground in centuries past but since has become increasingly harder to find in the Miramichi River, with the last one caught about 5 years ago. The Atlantic sturgeon study is aimed at quantifying the number of sturgeon within the Miramichi watershed.
Field Report
The smolt wheels and net have been removed and cleaned / repaired in preparation for next year. We were fortunate this year to not have had any bad weather affecting the operation of the wheels, allowing them to be fished every day, though high winds did stop us from fishing the trap a few days. Fortunately when we did get back to the trap after a two day fish we did not find high mortalities or too many fish to count. Holly has not had a chance to analyze the data as of yet but the results are forthcoming. You are probably also wondering how the 160 acoustically tagged smolts made it through the system. Preliminary results show about 90% of the tagged smolts made it to the head of tide – the Red Bank Bridge on the Northwest and the Quarryville Bridge on the Southwest. This was typical and expected – the interesting part will be how many made it through the estuary to the bay.
Stocking of salmon fry should begin next week with over 500,000 fry to be stocked in the Northwest, Little Southwest, Sevogle and Cains Rivers and in the Southwest at Rocky Brook, Clearwater and Juniper.
The Barriers are In!
The Northwest and Dungarvon Barriers were installed on June 2nd and 3rd. No salmon were seen but the Northwest Barrier reported 91 brook trout in the trap from June 3rd to the 7th. Sources tell me though that 2 large salmon arrived at the Dungarvon barrier the night of the 7th. Looking at 2014 figures one salmon had arrived at the Dungarvon this same week but none had arrived at the Northwest. I will try to send regular updates as the traps fill up!
Water Temperature Monitoring
Real time monitoring stations of water temperature, water level, air temperature, and precipitation parameters are now up and running on the Northwest, the Southwest and the Little Southwest Miramichi Rivers. Access can be found on our website main page – Quick Links – Water Levels and Temperatures – LSW, NWM & SWM.
Regulation change in Quebec
As reported from the ASF website…
The Quebec Minister of Forests, Fauna and Parks released new regulations for Atlantic salmon angling along the Restigouche River where it is the boundary between Quebec and New Brunswick. The intent is to harmonize the regulations, since all NB salmon must be released in 2015.
All Atlantic salmon must be released:
Between the Campbellton bridge and the mouth of the Matapedia River (Zone 1 of the Restigouche River)
Between the mouth of the Matapedia River and that of the Patapedia River (Zone 2 of the Restigouche River)
Further regulations contained in the Press Release (Fr) include the need to use single, barbless hooks. The barbs may be fully pinched down on existing flies – See more at: http://atlanticsalmonfederation.org/rivernotes/#sthash.d69Bmb9B.dpuf