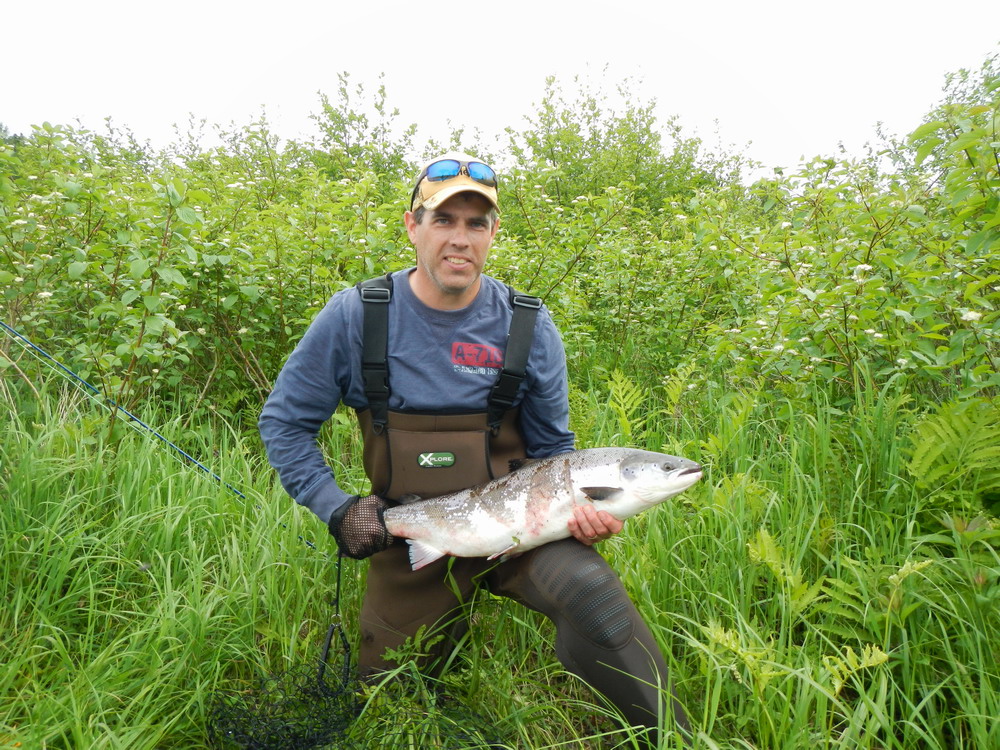 Hi Keith, we caught this Tuesday on the Little Southwest. First time ever fishing salmon, what a rush. Awesome guide Al Dobson coached me through it.
Gary Meister
………………………………………………………………………………………………………………
MSA News For June 14th
Hi All
All reports say there are fish are being caught on both the Northwest and Southwest Miramichi Rivers, including the Sevogle and the Little Southwest. On the Southwest fish have been caught as far up as Rocky Brook. I spoke with anglers who visited the Aesculapius Club on the Little Southwest this week and no salmon had made it up that far but there were some nice sea trout. The Crown Reserve leases are now being fished so will be interesting to see what numbers are being caught at those pools. The trap in Cassilis was fished on Wednesday for the first time this year and the Millerton trap is still being set up. These traps are fished daily by DFO and counts are used to estimate the numbers of salmon in the river each year.
DNR staff installed the protection barriers on the Northwest Miramichi and Dungarvon Rivers last week and are now monitoring them daily. On the Dungarvon from June 3rd to the 9th there were 2 grilse, 2 salmon and 9 trout in the trap, down from 4 grilse, 3 salmon and 14 trout for the same week last year. On the Northwest the crew began fishing on the 5th with no grilse or salmon caught but 174 trout did make it there. No salmon had reached the trap the same week in 2012 and 163 trout were present in 2012 so very similar numbers. Unfortunately if we look at 2011 the numbers at the traps by this time were significantly higher than this year with 8 salmon and 422 trout making it to the Northwest Barrier and 54 salmon and 8 trout making it to the Dungarvon Barrier.
All of the rain has kept the water level high although I have been told it is dropping. In 2012 the water level at the Northwest Barrier for last week averaged at 37 cm while this year it was 60 cm for the same week. On the Dungarvon the difference is not as great with 38-39 cm this past week in 2012 and 44 cm of water in 2013.
From the Field
Last week MSA summer student and aspiring wildlife biologist Kelsey McGee assisted ASF Salmon Biologist Graham Chafe in a very unique treasure hunt. Graham, who oversees the kelt satellite tagging program, received information that a satellite tag from one of the eleven kelt tagged in 2013 had popped off in the Miramichi Bay, and possibly washed up on shore. Transmissions from the tag gave a location past Point aux Carr near Black River, but to narrow it down Kelsey and Graham used telemetry equipment capable of picking up the tags transmissions. After a bit of beach combing they were able to pin point the tags location within a couple of metres, and with some sharp eyes came across some of the most expense beach treasure that you could hope to find, buried in seaweed. New satellite tags cost over $4000, but when a tag is recovered it can refurbished and reused for a fraction of that cost, allowing us to do more with the funds we receive. This tag will be ready to roll for next year's program.
Campaign 60 being well received.
We are pleased to report that Campaign 60, the MSA's 60th Anniversary capital campaign, is off to a great start, with 172 commitments totally $900,000 having been received to date, almost halfway to our Campaign goal of $2 million.
Thanks to all those who have generously contributed to Campaign 60 thus far, and to those still contemplating, your participation and contribution to this historically important Miramichi Salmon initiative is critical to ensuring the MSA's conservation programs can grow and remain sustainable for years to come.
To learn more about Campaign 60, or to join your local Campaign 60 team, please contact the MSA Office in Fredericton, South Esk or visit the Campaign 60 section of the MSA website at www.miramchisalmon.ca.
Enjoy the nice weekend!
Nola